November 25, 2013
Eric Kissinger is a player's coach, one that has enjoyed the best the beautiful game has to offer and has chosen to give back in a big way.  He has the best of both worlds, playing as a professional for the USL PRO's Dayton Dutch Lions and serving as a teacher and coach for the Miami Valley School in addition to serving on the staff at the Dutch Lions Academy.  Essentially he has dedicated his life to growing the game and serving others as a coach and teacher.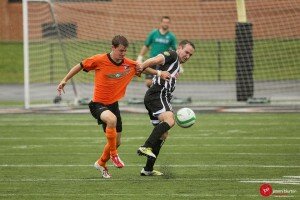 Photo Credit: Jeremy Blurton/Dayton Dutch Lions
He is someone that has built his entire career around hard work and determination.  That immense effort has paid off big as Kissinger has made a name for himself in the Dayton area and beyond.
As a player, he has been with the Dutch Lions organization since the team first took the field in the PDL in 2010.  He has been a "rock" for the organization, which has become one of the fastest-growing brands in the entire country.